Five Most Popular School Canopies
Why Your School Needs a Canopy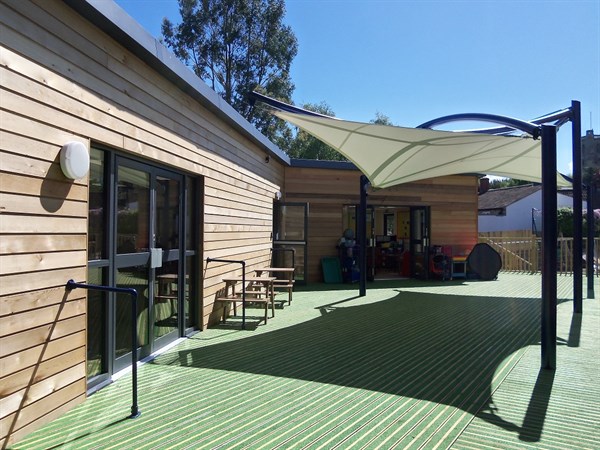 With just 12 weeks until schools break up for their much-needed summer break, now is the time to be planning ahead if you are considering adding a canopy to your school premises. It can then be designed and manufactured in time for installation during the school holidays while the students are off site and access is much easier.
A tensile fabric structure is a valuable addition to any nursery, school, academy, college or university, providing valuable extra outdoor space – whether it be for playtime, teaching activities, dining, walking between buildings or a doorway shelter.
Not only does a canopy enhance the appearance of the premises with its strong design and attention-seeking form and essentially extend the covered space without the need for a new building, but it also provides many useful applications.

The five most popular applications are outlined below:
1) Sunshade
Probably the most frequent reason that schools request a canopy is to provide some essential sun shading in their playground areas. Canopies protect children from harmful UV rays and keep them shaded while they play so that they don't burn, overheat or suffer from heatstroke. This is particularly important for the youngest children at school where the main emphasis is learning through play and so much more time in each day is spent in the outdoor environment.
2) Rain protection
Let's face it, rain is a permanent feature in the UK - so whilst the canopy can provide fantastic shade in the sunshine, it is also the perfect solution for the unpredictable British climate! A tensile fabric canopy offers much needed protection against rain (and snow) enabling children to play and learn outside in all weathers. The fabric is fully waterproof and the structures are fully engineered to deal with winds and any rain or snow loads, meaning a year-long solution throughout all the seasons.
3) Entrance or edge of building cover
A fabric structure is often chosen to highlight a building or classroom entrance. A canopy can offer a stylish and modern entrance to your building to give real 'wow factor' and make the entrance really obvious. It is also useful for keeping parents and siblings dry or shaded whilst waiting for drop off or pick up.
4) Dining
Many schools choose a tensile fabric canopy to create covered outdoor dining in their premises. This means there is less pressure on the indoor canteen areas and more space for the pupils to eat their packed lunches outside in all weathers. A canopy is a particularly good choice to transform a disused space or courtyard within a school space.
5) Walkway or linking buildings
To keep pupils and staff dry between buildings, a walkway canopy structure can be the perfect solution. A walkway canopy can be a flexible and cost-effective way to provide protection with a strong aesthetic look and is ideal for joining two buildings which are a long way apart, or creating a link between two buildings.
Contact us to discuss your project.
By Abi Smith, 29/04/2019