Top Tips for Interior Sun Shading
Are you suffering in a hot office or at a sunny reception desk?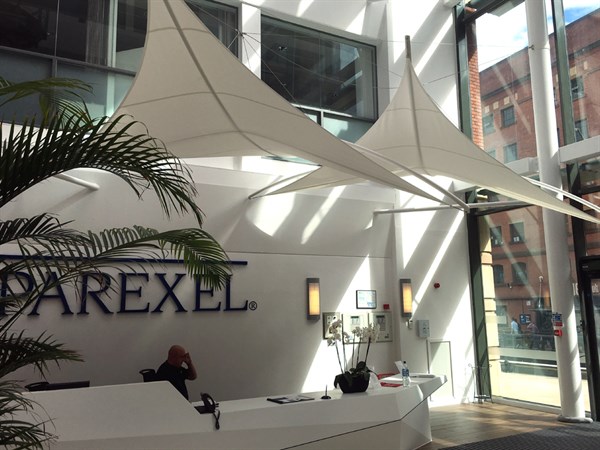 We are specialists in interior fabrics and can recommend exactly what your building might require to make it a much more pleasant space to be in – as well as creating an attractive feature and enhancing the look of the area.
Many offices and buildings suffer with an excess of heat and sun glare, especially those where there is a lot of glass involved in the construction of the building e.g. where the building is glass-fronted or has glass roofs or features – as many modern atriums seem to now have.
This can be extremely uncomfortable for anyone working or spending time in these conditions, and especially exacerbated in these times of heatwave. Reception heat can be particularly uncomfortable for staff to work in.
Tensile Fabric Top Tips:
For any building struggling with this problem, we would first recommend a thorough sun-path analysis – creating a 3D model of the space and tracking the sun path data. This in-depth analysis shows exactly how the area is affected as the sun moves throughout the day, the seasons and indeed the whole year.

Once we understand the extent of the sun glare problem, we can design an exact solution using fabric shades – strategically positioned to ensure that the high summer sun will be covered, as well as the lower autumn and winter sunshine which also causes a problem in such spaces. As well as keeping the light and airiness of the space, the sails will prevent the uncomfortable glare and heat build-up.

We would advise and recommend on the appropriate interior fabric to select (which would include BS 476 Class 1 and O mesh fabrics) depending on what look and feel the client is trying to achieve, what openness factor they would like, what their budget is, etc. We can design either one, or a series of shade sails or fins,depending on the requirement and the space. Favric shades can also be freestanding as a sun shade canopy, if for example a reception desk is in the middle of a space.

Fabric sails are easily fixed into place using a strap clamp detail which requires no drilling. They can be unclipped for easy cleaning and for the glass behind to be accessed and cleaned.
Benefits of interior sun shades:
Reduce sun glare
Prevent uncomfortable heat build-up
Make your staff and visitors happier and more productive
Create an eye-catching feature
Below is just a small example of the different projects we have worked on. See our full interior sunshade portfolio here.
Get in touch if you need help with sun glare – and do it NOW to feel the benefit for the rest of this summer and so that it is in place for next summer.
By Abi Smith, 14/07/2022