The Tensile Fabric Design Process
Design is central to our business – good design means happy clients.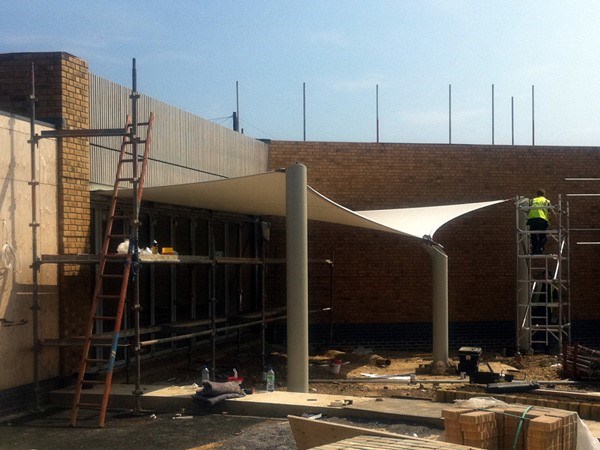 Design is central to our business – good design means happy clients.
Tensile fabric structures use a membrane that is put under tension to form a 3D surface. This surface can be used in a multitude of ways (as you can see from our portfolio) to create roofs, walls, screens and everything in between.
The beauty of fabric structures is that they use very little material compared to other forms of construction – typically able to cover very large areas with only a few supporting columns or 3D shapes that would be near impossible in any other sub straight.
These characteristics - as well as other qualities that one gets with fabric (differing light transmission, reflective amounts and of course the ability to print) - make for a huge range of possibilities within the scope of the tensile fabric design.
So where to start? Are there any design limitations by choosing fabric?
Fabric can control light, stop glare, give you shade and comfort as well as keep the rain off you. Fabric structure design comes with a series of factors to influence how a structure will work and appear.
To begin with: what is the fabric for? A canopy to provide shade? A walkway to keep water off? A screen to brand? A shade to protect reception staff from the penetrating sunlight? What are the 'engineering' considerations?
Next: is it for permanent or temporary use? This may affect the materials used (directly affecting cost). What will it be fixed to? Is there space for foundations? Will the canopy be hung up? Is the roof strong enough? The list continues, but all leads toward an important set of parameters that need to be considered at the beginning of the scheme to make sure the outcome is as simple and appropriate as possible.
Once the parameters are set, the aesthetic can be further developed – after all it's got to be attractive. Engineering comes in further at this point (making sure the form and frame work perfectly together) and still remain to answer the original design brief.
Costing comes within the entire design consideration as we fully understand that best practice always includes good value for the client. A major factor in the cost of fabric structure is the metal frame that supports it. It often takes a majority of the design time and very often a majority of the job costing – so close consideration of this is paramount.
When the order is placed, fabrication drawings come next – where the nitty gritty details are ironed out and every component is modelled to ensure everything comes together perfectly.
Every decision made at the design stage affects how things are fabricated and built. A good design means efficient manufacture, straight-forward installation and ultimately, best value.
The design process varies depending on what the structure is, but the 5 key steps to our design process are:
Step 1 - Briefing process results in a sketch which is costed and discussed with the client. Fabrics are selected and put forward.
Step 2 - From the sketch drawings, design development continues - working out specific forms, interactions of the steel and fabric, water run-off etc. This culminates in a complete design proposal that is ready for sign-off by the client.
Step 3 - Budgets are set and costs provided - if everything is agreed upon, the process continues to develop the fabric form in 3D, with industry-specific fabric form development software, using fabric panel shapes to create the appropriate form.
Step 4 - All parts are drawn individually and made ready for fabrication by the various in-house and subcontract services employed by us to create the fabric structure.
Step 5 - Finally the canopy parts are assembled at our works for delivery to the site and installation – in order to complete the design process at this stage, setting out drawings are checked to ensure they include every last detail for the installation teams for a smooth installation in accordance with the method statement.
At TensileFabric we pride ourselves on having a design process that is comprehensive, traceable and thorough, so that we can be sure to provide you with the perfect fabric solution every time.
Contact us to discuss your new project.
By Abi Smith, 30/04/2020