Fabric Canopy for Reception Area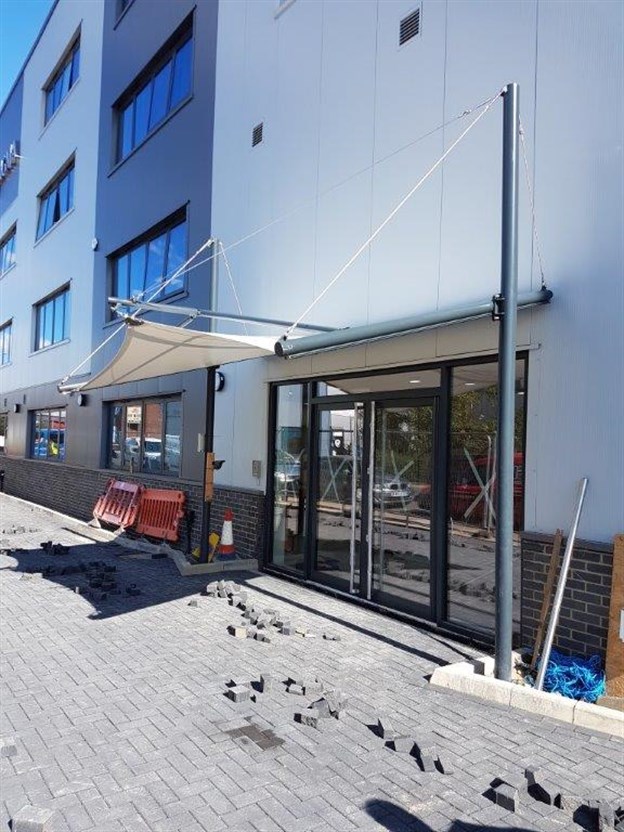 Project:

Entrance Canopy, Sigma

Description:

Fabric Canopy for Reception Area

Client:

Envoplan

Location:

London

Applications:

Entrance

Fabric:

PVC Coated Polyester

Frame:

Mild Steel

Fixings:

Stainless Steel

Ref:

2211
This cantilever entrance canopy forms the reception canopy to the new automated warehouse and offices for Sigma Pharmaceuticals plc at their new Watford building, HD House.
The simple design (using a cantilever goal post design) has allowed this structure to be added to the building front quite late on in the project, as well as not imposing any loads onto the front face of the building.
The hypar form skin is trapped by an extrusion to three edges, while the front edge uses the classic cable pockets.
As well as highlghting where the entrance is, the canopy also offers all weather protection for people entering and leaving the building.
Regular cleaning of the canopy and steel will keep it in good order, and shoud be in place for 15 years plus with no issues.
Join our mailing list for news and updates on projects and products…
Seen our range of pre-designed exhibition products? Easy to specify, use and reuse…
Does your space need acoustic dampening? Acoustically absorbent fabric structures can help…