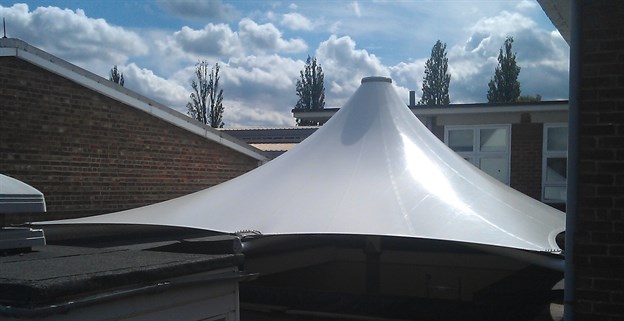 Project:

Outdoor Dining Canopy, Kingsdown School

Description:

Umbrella Canopy

Client:

Barcon Construction

Location:

Swindon

Applications:

Playground Dining Sunshade Canopy

Fabric:

PVC Coated Polyester

Frame:

Mild Steel

Fixings:

Stainless Steel

Ref:

1808
This canopy forms the centre of a new outdoor dining courtyard within the centre of the older section of this secondary school.
Previously an unused eyesore, the courtyard has been transformed into a protected (but well ventilated) space that allows for outdoor eating, even on wet days.
The canopy sits on a single central foundation, that was pre-installed by the main contractor.
On this occasion we fitted the lower section of the main upright prior to the main build (to allow the main contractor to finish their floor finish) before we finally attended site to build the upper frame and fit the fabric.
Seen our range of pre-designed exhibition products? Easy to specify, use and reuse…
Looking for a stylish garden shade? View our custom-made canopies…
Need permanent interior fabric sails or sunshades? See our bespoke interior portfolio…