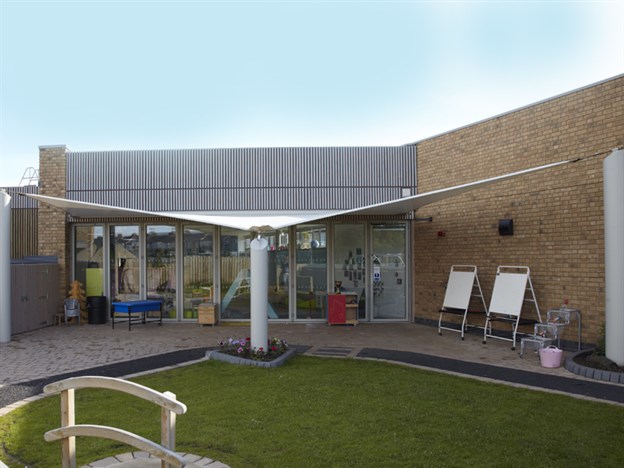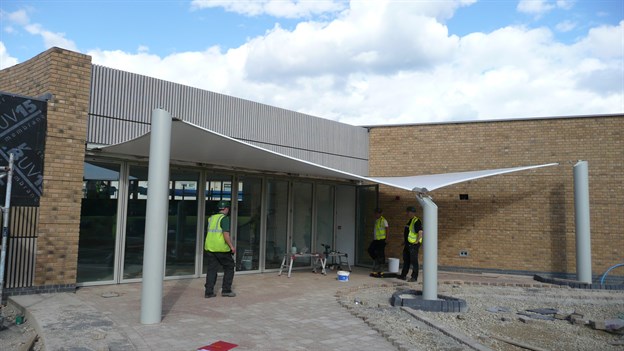 Project:

Play Canopy, Jesmond Gardens School

Description:

School Entrance Canopy

Client:

Surgo

Location:

Hartlepool

Applications:

Playground Entrance Canopy

Fabric:

PVC Coated Polyester

Frame:

Mild Steel

Fixings:

Aluminum Extrusion

Ref:

1758
TensileFabric installed this bespoke canopy for the New Jesmond Gardens School in Hartlepool.
This canopy design required a number of factors to be considered: as few legs as possible; relative low level protection for infant/junior children; controlled water drainage; proximity to existing walls and of course cost.
The result is a hypar-like canopy, that does not vary in high and low positions too much. The resultant large loads are dealt with by large columns to some substantial foundations.
The water is controlled through the centre, passing over the canopy, hitting up stands in the fabric edge to a central membrane plate, and down a hopper on the central mast.
Installation was completed in two days, with the assistance of a mobile telehandler to move the masts.
Need something a bit out of the ordinary? Interior, exterior and exhibition projects that go beyond the norm…
Need permanent interior fabric sails or sunshades? See our bespoke interior portfolio…
Having problems with bad interior acoustics? Solve this with custom made fabric screens and ceilings…