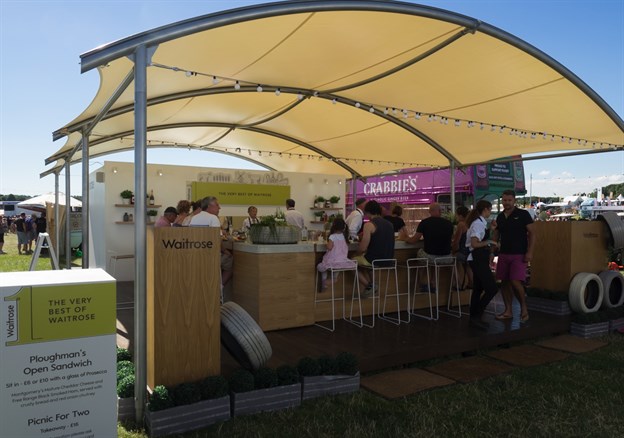 Project:

Festival Touring Structure, Waitrose

Description:

Outside Event Structure

Client:

Waitrose

Location:

Touring

Applications:

Entertainment Canopy Touring

Fabric:

PVC

Frame:

Mild Steel

Fixings:

Aluminium Extrusion

Ref:

2139
Waitrose attended a number of food festival shows around the UK during the summer and they needed an elegant roof solution to cover their cookery demonstration stand. We designed an 11m x 8.2m barrel vault ceiling canopy for them in a white PVC fabric to go over the exhibition stand.
The aluminium and steel structure goes up in a number of hours and is then pegged down which is perfect for green field sites.
The structure is modular in form which means that if the client wanted to change the stand to make it bigger or smaller for future use, bays can be added or taken away as required.
Join our mailing list for news and updates on projects and products…
Need permanent interior fabric sails or sunshades? See our bespoke interior portfolio…
External canopies made to measure… …and built to last. See our bespoke exteriors portfolio…