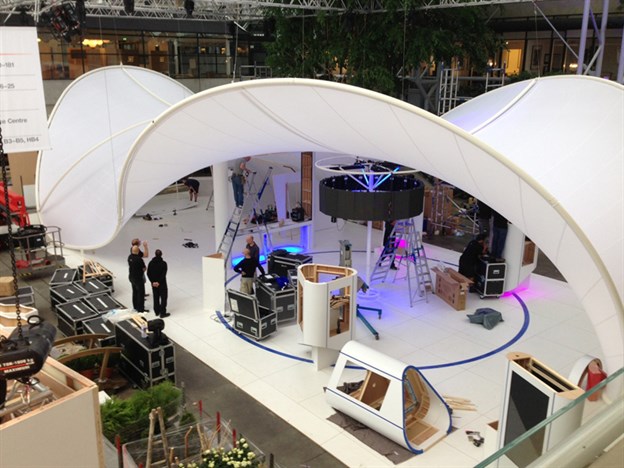 Project:

Pharmaceutical Stand, Copenhagen

Description:

Fabric Wave Canopy

Client:

Just Communicate

Location:

Copenhagen

Applications:

Feature Suspended Canopy Centrepiece

Fabric:

HTC Polyester

Frame:

Mild Steel

Fixings:

Various

Ref:

1950
Installed in the Autumn of 2013, TensileFabric installed this impressive wave-like canopy for an exhibition in Copenhagen.
The complex structure is made up of three sections: The main canopy, forming the main enclosure of the stand, a cone feature, with supports lighting and LED displays and a curved end wall, that support for digital media - and a meeting area.
At 22m x 11m, the main canopy is built around a 3D modelled steel tube frame which forms both the perimeter and multi part spine, being suspended from eleven points and floor supported in three locations.
Below the main canopy, the fabric cone and its supporting inner steel frame, supports multiple LED displays and LED lighting, providing a strong central feature for the stand. The underfloor steel allows this structure to be completely free standing.
To the far end is a curved wall element, skinned in a halo of fabric and supporting three displays for client information. This element was added to the scheme 1 week before shipping.
The fabric structure elements took two days to install for 4 of our experienced riggers.
The whole structure was transported to Copenhagen occupying around 6m x 2m x 2m space within the transporting container.
Seen our range of pre-designed exhibition products? Easy to specify, use and reuse…
Need permanent interior fabric sails or sunshades? See our bespoke interior portfolio…
Need something a bit out of the ordinary? Interior, exterior and exhibition projects that go beyond the norm…