Benefits of Adding a Pod Structure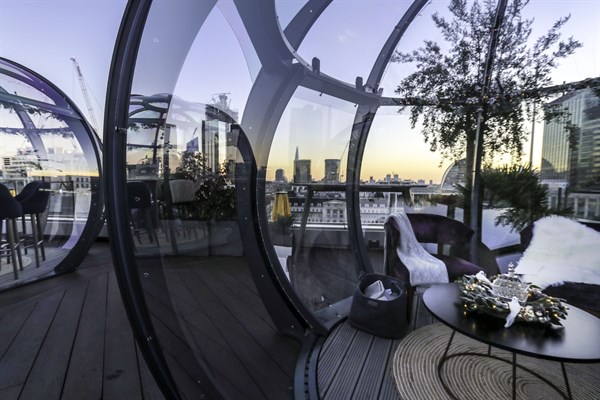 Pod dining is causing a sensation! Check out the four top benefits of adding a pod to your space!
Create a stunning feature
Our dining pods are visually stunning and eye-catching in any location. Made from polycarbonate with a timber frame on a shallow-depth deck, the pods feature an opening roof vent and retractable sliding doors.
They create a real buzz and talking point in all locations but are particularly popular in spaces which benefit from an exceptional view.
Extend your capacity for covers
The beauty of adding a pod (or indeed several pods) to a restaurant or pub terrace is the capacity for increasing the number of customers that you can cater for at any one time.
In the autumn and winter time especially, when it is too chilly to sit and eat outdoors, the pods are warm and cosy as they are near airtight and offer excellent heat retention – thus opening up the space for year round outdoor dining.
Increase your revenue
By increasing covers you will ultimately be increasing your revenue so the investment quickly pays for itself. Many businesses in the most popular locations have been charging a hiring fee for exclusive use of each pod as well, which is another revenue stream in itself.
Check out why these dining pods get 9,000 bookings a day! Please note that the igloos in this video are the older design. Check out the new improved design.
Enhance your brand
In terms of branding, the pods will help to differentiate your brand and give you some wonderful opportunities for PR as they create such a talking point and offer a premium dining experience for your customers.
The pods are made to order – so contact us NOW to start benefiting for the next winter outdoor dining season!
By Abi Smith, 18/07/2019