Essential Summer Sun Shade
Stay safe and shaded in the sunshine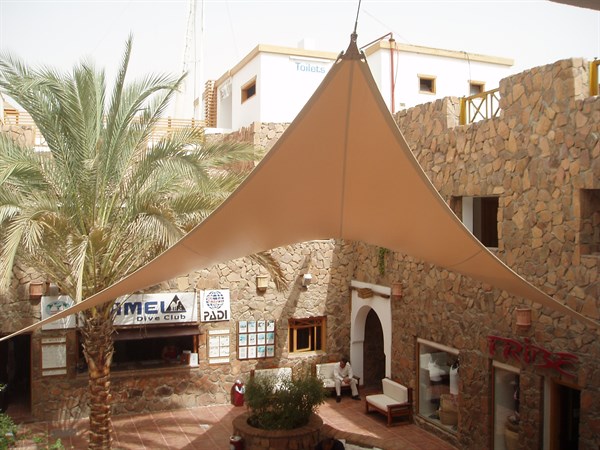 Hand in hand with the summer solstice and the longest day of the year comes the promise of glorious sunny days, basking in the heat of the summer sun (fingers crossed!). It's been a bit of a soggy start to the summer so far, but after summer solstice the days get shorter and hotter – stored heat from the sea, as well as the sun, is needed to bring the finer weather.

Of course we all love being out in the sunshine and enjoying all that extra vitamin D. But we are also very aware these days of how important it is to stay safe in the sun and protect ourselves from the potentially damaging effects of ultraviolet (UV) radiation - exposure to UV rays is one of the major risk factors for most skin cancers.

Sun protection

Using fabric to create exterior shade structures is a popular way of providing shade these days – protecting skin from the harmful rays and offering a strong design aesthetic in any space.
Shading can be added to virtually any space – and a fabric structure can transform any area into a shaded oasis. Whatever the purpose of your structure, it means you can play, eat, learn, relax and move around in your outdoor space for longer as you will be cooler and protected from the harmful rays.

There are certain fabrics which are used specifically for sun shading. When it comes to choosing an exterior fabric, the sunshade structure selected with invariably also be waterproof so that it offers all year long weather protection. Most people will choose a fabric that offers both options.

The degree of shade and UV block that a fabric will offer depends on a number of factors: its weight, its colour and of course its technical make up (as some fabrics are laminated with particular layers of to prevent UV transmission).

Transform your outside space

Not only does a fabric sun shade offer all this protection, the added bonus is that they will enhance and improve the overall look of the area with a strong design aesthetic. Previously disused spaces, such as a courtyard area for example, can be transformed with the addition of a canopy, opening up and extending the outdoor space available for use.

Reduce glare internally

Sun shading is also often needed for interior spaces. We create stylish interior fabric solutions for sun shading inside a building – helping to protect people indoors from the glare and heat of the sun.

In interior situations, sun shading is often focused around protecting people from sunlight in glass roof/fronted spaces such as reception areas and atriums. For these spaces it is possible to use various types of mesh fabric, offering predictable light reflecting/diffusing qualities, again depending on weight, openness factor and colour.
Contact us to discuss your sun shading requirements.
By Abi Smith, 24/06/2019