Why you should invest in a pod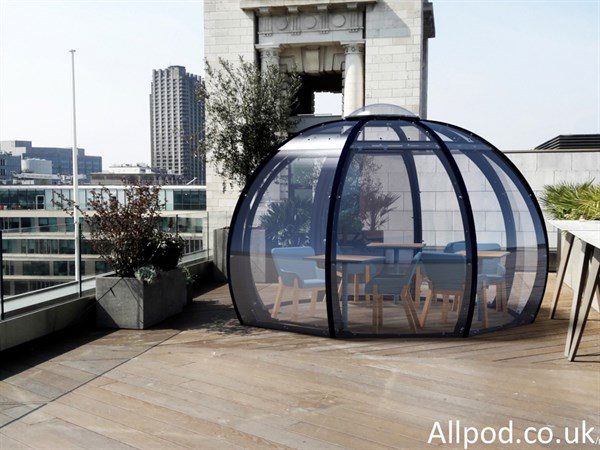 We all love to eat out and we all appreciate a view.
Pod dining is a new concept that has been taking the al fresco dining scene by storm over the last 12 months.
The pubs and restaurants that have already invested in them have been booked out day and night as they are such a unique way to eat out. The pods have managed to merge exclusive private dining with a funky fresh approach - as you can be eating in the great outdoors whilst taking in spectacular views and remaining warm!
Customers can dine in style surrounded by nature and previously disused spaces and terraces can be quickly transformed into attractive and profitable al fresco dining areas.
Pods are perfect for so many occasions: breakfast, lunch, afternoon tea, after work drinks, dinner, and even as a small meeting space. They provide a flexible solution and can offer benefits throughout the whole year - making the most of your outdoor space in the winter and adding to your space in the summer.
Cosy for winter
Not only does the pod create a real talking point and visual feature for a restaurant terrace, it is also extremely practical as it keeps customers warm, cosy, dry and protected from the autumn and winter elements, whilst boosting revenue.
In the colder months the pods can be furnished with stunning fur throws, fleecy blankets, candles, fairy lights, etc. The pods actually retain their heat really well - as they're provided with brushes at the doors and a sealed ventilation dome at the top. Extra warmth is best provided by a thermostatic blow heater - perfect for autumn and winter and for those chillier summer nights.
Cool for summer
In the spring and summer months the pods can be decked out with greenery, summery lanterns, strings of lights or bunting, and brightly coloured cushions and throws. On warmer days the retractable door can be opened to let air flow through, or fabric shade sails can be added to the panels for a lovely shade effect. On those chillier British summer days (which let's face it we have an awful lot of!) the pods keep customers warm and protected from the wind or rain - so they are still able to feel like they are dining in the great outdoors, while remaining lovely and warm.
Adding pods to a restaurant terrace can offer the following benefits:
- Create a stunning feature
- Enhance your brand and create a 'buzz'
- Extend your covers
- Increase your revenue throughout the whole year.
For more information on our range of pods, please get in touch.
By Abi Smith, 20/05/2019