Maximise your outdoor space with pod dining this winter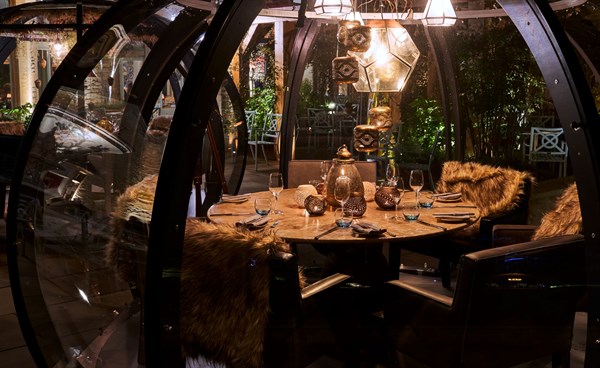 There is no doubt that this is a really difficult period for so many people and so many industries. As we enter the second lockdown for the month of November, pubs, restaurants and hotels may be wondering how they are going to re-open and maximise all of their spaces for December and into the traditionally very busy Christmas and new year holiday, so that they can claw back some much needed revenue.
Igloos - perfect for winter dining
The pods are a great solution for the whole of the autumn and winter as they provide an outdoor enclosed space for guests to drink and dine, whilst staying safe and socially distanced from others. They are lovely and warm with a blow heater and offer a really cosy and welcoming experience.
Pods - great for summer use
The pods are modular which allows them to be broken down to smaller petals and moved into storage, if you decide that you only want them to be in place during the colder months. However, if you want to keep them as a stunning and eye-catching feature throughout the year, they are also ideal for the spring and summer months – for all those chilly or rainy UK days! And for all those warmer days, there is an internal sliding door and an opening roof vent so that air can flow well around the dome. Being experts in fabric, we can also offer a sun shading skin for use in the summer periods or patterned vinyl graphic options which make the pod even more of a feature!
Return on investment
Unfortunately even once the hospitality industry is allowed to re-open its doors, it does look like social distancing will have to continue for some time to come, and the pods do offer that 'safety bubble' feeling as well as a luxurious private dining experience.
We appreciate that it is a tricky time to be investing for pubs and restaurants after a very difficult year, but the pods will pay for themselves and generate revenue and profit for you very quickly.
For example:
If you are able to do 4 x sittings a day in a pod with 6 people (if we go back to the rule of six) all spending £35 each
Assuming a £15 profit per person x 6 persons x 4 sittings = £360 per day
So one pod would pay for itself in around 30 days
Of course depending on your location you may be able to charge a premium for actually being in or hiring out the pods, as many of our London locations do.
Financing option
We can also offer an affordable finance option and a pod could cost you as little as £45 per month. Contact us for more details.
Four weeks
The pods are currently on a 4 week lead time so if you are interested in having some made for you while you are closed this month, CONTACT US TODAY!
By Abi Smith, 05/11/2020