Stand Out from the Exhibition Crowd!
Four top tips for designing an event structure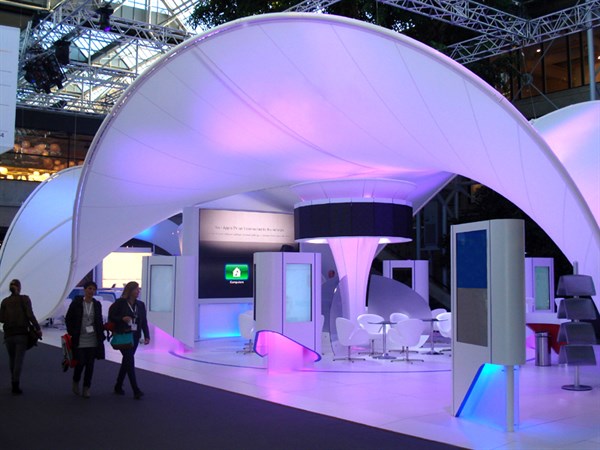 This is a busy time of year for the exhibition market with lots of major events currently taking place or about to happen. If you have exhibitions coming up in the autumn season, now is the time to be thinking and planning ahead for the design of your stand.
A well-designed stand will do a lot of the hard work for you on the day of the event, so it is vital that you spend time planning its creation. There are numerous options and materials out there to choose from, which range to suit every budget.
Here are our four top tips to using tensile fabric for your next exhibition stand:
1. Think about using an overhead structure
In a busy and crowded interior exhibition hall, it is very easy for a stand to be lost and not be seen by delegates attending the event. By creating an overhead fabric structure, you are drawing the eye up and helping visitors to easily identify where your stand is and how to get there. Suspended structures are also ideal for exhibition halls where space is at a premium and there are numerous exhibitors trying to compete for the audience's attention.
A hanging canopy is an attention seeking form with a strong design and there are numerous shapes and sizes to choose from – from triangles, cubes and cones, to squares, rectangles, circles and ellipses. Suspended forms should be lightweight and quick to put up and take down.
2. Consider brand awareness
A fabric structure also offers a strong opportunity for branding and advertising, simply by adding company logos and company messaging. Full colour print can be added onto any fabric structure to truly personalise a stand. Branding also creates great signage and can be re-used back at the company headquarters or for future events.
3. Create visual impact
There are many ways to create a visual impact with your exhibition stand. Literally any shape can be created using fabric, so your stand can have a definite wow factor and you don't need to be restricted by what you may have seen before!
Also, by adding lighting and projection on to a fabric structure, you really make it stand out from the crowd as it can be illuminated in a range of colours, or even be colour changing throughout the event.
4. Create an enclosed feel
If you need to create more of a 'contained' feel to entice the audience inside to find out more, a fabric pod could be the answer. A pod structure not only offers a cosy and welcoming feel for customers, but it also helps to create the curiosity needed to engage the visitor and offer a strong design which will really stand out – whether it is used inside or outside. Pod structures are often popular for touring exhibitions.
At Tensile Fabric, our exhibition fabric structures are:
High quality
Made in the UK
Stylish yet practical
Easy to install
Ideal for re-use to further increase ROI
For design inspiration, view our exhibition portfolio.
To discuss your next exhibition project in more detail, please contact us.
By Abi Smith, 11/03/2019