Highlight your Exhibition
Using Light to Create an Exhibition Centrepiece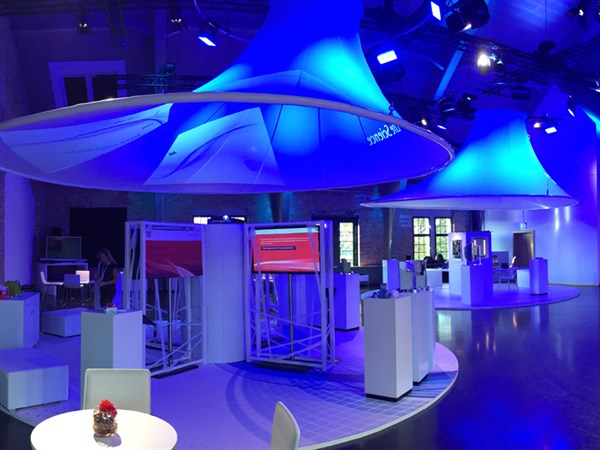 Autumn is a busy time for the exhibition industry with numerous events taking place at diverse venues across the world.
Visitors attending these events will of course see many different kinds of stand – with various degrees of size, type, style, colour and effect – and some will obviously be more inviting than others.
So how can you entice the crowd to visit your stand – and not get lost in a sea of bland boring booths?
There are actually many ways to create a visual impact with an exhibition stand, and indeed tensile fabric structures have a unique way of drawing attention to themselves by the very nature of their form.
Adding lighting and projection on to a fabric structure can take it to another level and create a truly magnificent centrepiece. Stands can be illuminated in a range of colours, and even be colour-changing throughout an event for a continually evolving feel.
Lighting can be incorporated into any structure and really does help enhance its form. We have a wealth of experience and can advise you on what may work for your particular structure. We work with a number of specialised lighting companies - and the list of what can be achieved is endless!
Make your exhibition stand 'stand out' from the crowd with illumination:
Provide a strong central feature for an exhibition stand
Use light projection for a continually changing feel
Add built-in projection screens
Include multiple LED displays and LED lighting
A popular source for lighting is LED – it offers colour change options, high lux levels, low heat generation and small light fittings. When you add this to a fabric structure you will have a light source that can be easily hidden and won't interfere with the overall aesthetics of the form.
Colour change is a great feature of modern LED – this allows you to select a white fabric (that is often less expensive than a coloured option, and of course never goes out of fashion!) and then light it with any colour imaginable.
Backlighting is a simple way of making your structure stand out (without being visually interrupted by having to see your light source) and fabric forms lend themselves to this technique beautifully.
Care must be taken when selecting your fabric and light source to ensure that no 'spotting' occurs i.e. when you can see your light source through the fabric. This can be avoided by choosing very close weave fabrics that are heat treated after weaving, or by diffusing you light source locally before the resultant light hits the back of the fabric.
Front lighting or washing with colour is again an ideal lighting technique for fabric canopies, as double curved fabric is beautifully emphasised, adding depth and increasing the contract of the shape.
If you combine the two effects of front and back lighting with a mesh fabric, you can then introduce something called the 'stage cloth effect' - where the fabric can appear solid when front lit, but transparent when back lit. This works really well when you want to move the emphasis from one space to another, for example if your exhibition client wishes the stand to convey more than one message.
As you can see in all of these images below, illumination really brings them to life….
Find inspiration with our exhibition structure portfolio.
Contact us to discuss your next exhibition project.
By Abi Smith, 17/10/2019