Increase Covers with Cover!
Year-round outdoor dining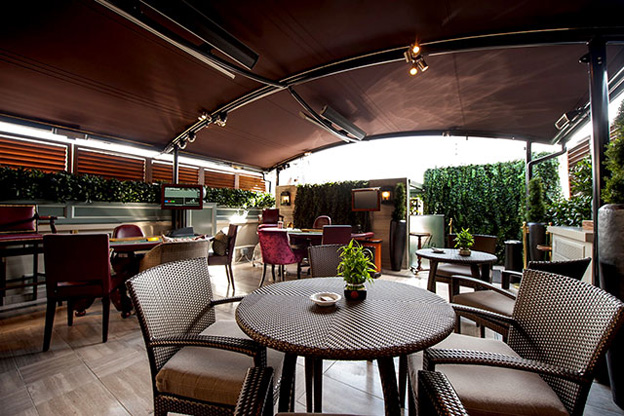 Dining out is one of life's pleasures. As the nights draw in and the temperatures fall, many restaurants reduce their capacity for dining covers as they are restricted to their indoor dining areas only. During the spring and summer months they can literally double or triple their earnings with the number of customers able to and wanting to dine outside (especially with the summer we enjoyed in 2018!).
Smart restaurateurs may want to think about prolonging the outdoor dining season by investing in a tensile fabric structure. Not only is a structure an eye-catching design feature, but it is also extremely practical and can enhance any outdoor dining area, keeping customers dry and protected from the autumn and winter elements, whilst boosting revenue.
An outdoor dining canopy is guaranteed to offer an excellent return on investment as it can be used all year round, providing UV protection in the sunshine and much needed shelter on those rainy days. Diners everywhere seem to relish the opportunity to drink or eat outdoors — whether it's something about the fresh air, the feeling of space, to take in a view, or simply to people watch!
Previously disused spaces can be quickly transformed into attractive and profitable al fresco covered dining areas, whether it be a small sail canopy or large area coverage for a café or restaurant terrace. Another advantage of fabric is that it can be printed on to — to enhance company branding or even to act as signage.
View our portfolio of bespoke outdoor canopies.
For more information on dining canopies and structures, or to discuss your project in more detail, please contact us.
By Abi Smith, 17/01/2019